Treats
There are two kinds of treats in Fish World.  The kind you feed to your friend's fish when visiting their tanks and the kind used on the Leveling Fish.
Feed Treats to Neighbors' Fish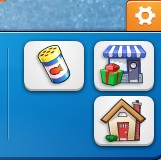 Click on the fish food button that appears under the tank while you are visiting a friend. Then click again near the top of tank to drop the treat. You will get +1 experience points for feeding friends' fish. Your friend will get a notification that you have fed their fish a treat and also get a coin bonus if you post to their wall.
You can feed your neighbors' fish a treat every 12 hours.
Feed Treats to Leveling Fish
The other kind of treat is used to level up fish that can be purchased in the Leveling Fish section of the store.  Each leveling fish has a different type of action they perform when they have been leveled up to adulthood (level 10) such as: 2 or more of the SAME leveling fish will school together, leveling fish that make bubbles, leveling fish that makes sounds.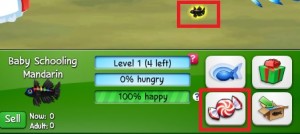 Click the Fish Store and navigate to the Leveling Fish category. Buy a fish, then click the fish which will display the treats button. Click the treats button until your leveling fish reaches level 10.  At level 10 its special function will be activated.
You can read a bit more detail on Leveling Fish here, including a brief video demonstrating how the Schooling Leveling Fish swim together.
Things to note:
If you chose a schooling fish, you need at least 2 of the same fish both leveled up to 10 before they will seek each other other and swim together.
You can view your leveling fish treats balance by clicking the store. It will be displayed at the top of the store where your fishbucks and coin balances are.
If you run out of treats during leveling, you can buy more in the store.