Fish Creation – Fish Lab

There are now two ways to create your own fish in Fish World. You can breed two fish together in the Breeding lab or you can genetically engineer your own fish in the Fish Lab.   Clicking the "Fish Creation" button on your toolbar below your tanks opens a window where you can choose either method.
FISH LAB
You can create your own fish by choosing it's different body parts and colors in the "Fish Lab".

To create your own fish, click on the "Fish Lab" button located on the Fish Creation pop up. With this option, you get to choose everything from head to tail on your fish. You also get to choose the color. Genetically engineered fish created in the Fish Lab are only available for Fishbucks (or by winning Lab Credits in the Daily Spin).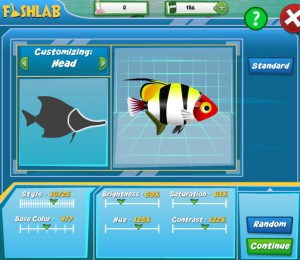 This is your control consol for creating genetically engineered fish.
You get to choose color, head, side fin, front fin, body, dorsal fin, rear fin and tail.
Switch through the body parts by clicking the arrows in the top left hand corner. Then choose the body part style and base color by sliding the bars in the lower left hand corner.
Customize your base color by adjusting the Brightness, Saturation, Hue and Contrast bars left and right until you're happy with the result.
Click the "Random" button to get random parts and colors chosen for you.
Click the "Continue" button when you are ready to purchase your fish.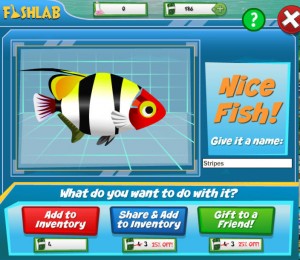 After clicking the "Continue" button, you will be taken to this screen.
Here you can give your fish a custom name by typing the new name into the space provided.
Then you can choose one of three options:
1. Add to inventory (4FB's) – This option will add the fish to your inventory without being prompted to post your new fish to your Facebook Wall.
2. Share & Add to Inventory (3FB's) – This option will add the fish to your inventory and force you to publish your new fish to your Facebook Wall.
3. Gift to a Friend (3FB's) – Clicking this option will immediately send you to the gifting screen where you can choose a friend to send your new fish.